What is a Payment Processing System?
Payment processors authenticate the credit and debit card details of your customer through the credit card network and deposit the requested amount into your merchant account. Modern payment processors support a variety of payment methods which include:
Online payments

In-person payments

Debit card and credit card payments

Bank account transfers

Payment from third-party apps like PayPal, Stripe, etc.

…and more.
A payment processing system describes the hardware and software infrastructure of payment processors that serve as payment gateways between consumers and business owners.
Payment processing services are companies or providers that build such systems.
Whether you are running an eCommerce or retail business, choosing the right provider is crucial for improving the cash flow of your business.
But with so many options available, how do you pick the right one?
In this article, you'll learn the seven critical factors to consider before selecting a payment processing service provider for your business.
7 Factors to Consider Choosing a Payment Processor
Consider all the factors below when choosing a payment processor to maximize your bottom line and ensure your customers have the best payment experience while doing business with you.
1. Merchant Services
Merchant services is essentially the system that handles the credit card payments of your business. It is also known as credit card processing. It includes everything from obtaining the pricing details of the business to the authentication of payment information to transfer funds.
Choosing the right credit card processing service provider for your established or small business is crucial because:
You can get more customers by offering more payment options such as contactless payments,

Apple Pay

,

Google Pay

, and digital wallets.

Tracking and managing finances will be easy even for small businesses and startups as they will provide you with an overview of your cash flow.

These payment processing services can easily accommodate your growing business needs while ensuring customer satisfaction.
Von Payments provides scalable and transparent merchant services for all kinds of businesses including eCommerce and retail.
2. Pricing
One of the main drawbacks of credit and debit card payment options is transaction fees. Monthly fees, processing fees, chargeback fees, and interchange fees are just a few of them. The three important fees charged by Visa and Mastercard are displayed on the diagram below.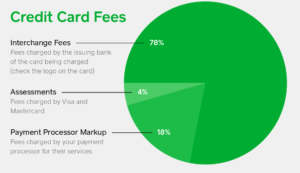 (source)
These fees necessitate a change in your business's pricing structure as you have to consider these additional fees and taxes.
Thus, you need to choose a payment processing service that charges the least additional fees from you and your customers.
Von Payments is a payment processing company that stands out when it comes to minimizing these hidden fees. Even if you have a high-risk non-traditional business, you will incur the least transaction fees to maximize your revenue. This is done by passing off transaction fees to the customer, so your business does not have to pay more when customers pay with cards.
One of the ways to eliminate transaction fees is through cash discounts. This is where your customers can choose to pay through cash or through credit card with extra fees. It doesn't cost your business anything as customers are covering additional fees, so you gain back all your profits.
3. Payment Types
The payment processing company of your choice should allow you to get paid in every way whether your customers prefer cashless transactions or in-person payments. Although online payments are provided by every payment processing company, not all of them accept payments via third-party tools like Stripe and PayPal.
Von Payments made a leap in this area to ensure both retailers and eCommerce businesses can process transactions in high volume through all channels.
The robust processing solutions support all card networks including Visa, Mastercard, and Discover for online payments and also allow businesses to give their customers the freedom of paying through third-party apps like Stripe and Paypal with no additional cost.
4. Point-of-sale (POS) Hardware
Point-of-sale (POS) hardware is the physical device that authenticates and processes payments during checkout. Modern POS hardware lets customers make payments to merchant accounts through a variety of in-store payment methods.
Choosing the right service provider is crucial as it decides what payment options your in-store shoppers will have. There are many kinds of POS systems ranging from mobile devices to desktops.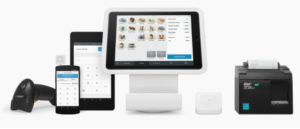 (source)
Von Payments has partnered with Clover to deliver a customizable POS system to merchants which does it all: invoicing, debit and credit card processing, virtual terminals, and more. Clover's payment processing solutions seamlessly integrate with Von Payments which allows you to monitor your invoicing and finances on your smartphone as well through our app.
5. Card Readers and Apps
Having a card reader in-store helps improve the customer experience in two ways. One, it is a secure way to pay for customers as there is no contact except for the 'tap'. Two, it is quick. These two reasons make it a great option for small businesses that serve customers in-store.
Clover's aforementioned POS allows your customers to make payments to your merchant account through all kinds of cards with a simple tap while checking out with their shopping carts.
However, growing businesses with both in-store and online operations might find it challenging to comprehensively track all their sales. Clover also has a solution for that. Its native mobile app's dashboard keeps you updated about cash, online, debit, and credit card transactions made by your business.
6. Deposit Timing
Deposit timing refers to the amount of time between the moment a payment is registered to the moment you can withdraw the cash. This is crucial for small businesses as they need a steady cash flow to meet the overhead costs and keep things running.
Most payment processing companies have a deposit timing of a few business days which can make things difficult for non-traditional and high-risk businesses.
Von Payments allows you to get cash from your merchant bank account the very next day of the payments. Furthermore, you can get cash deposited directly to your bank account (also known as ACH deposits).
7. Contract Periods
The contract period is the mutually agreed-upon time duration for which you have decided to use a payment processing service. Generally, budding retail and eCommerce businesses prefer short contract periods because:
They want to avoid cancellation and early termination fees.

They don't want to keep paying the monthly charges during the off-season.
Von Payments simplifies this decision by completely eliminating the cancellation fees and the traditional monthly-rental pricing model. You will be only charged when you process a payment — free cancelation, no early termination fees.
Accept Cash and Credit Card Payments with Von Payments Solutions
Payment processing services help businesses run the most important processes?invoicing, processing purchases, authenticating payments, and validating refunds.
While choosing a payment processing solution, it is crucial to ensure that it will cost you less and give your customers the ability to pay however they want (paying only a small fee with credit card transactions) while incorporating your unique business needs.
Von Payments provides a zero-fee payment processing solution for businesses of all sizes in multiple sectors to deliver just that. We also support high-risk non-traditional businesses to get direct ACH deposits from their customers for any payment method.
Get in touch with us and we will deliver a customized payment processing solution for your business.